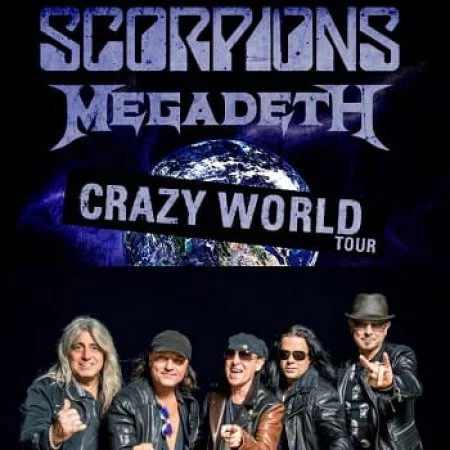 Scorpions cancel rest of US tour due to singer Klaus Meine's severe case of laryngitis
The Scorpions regretfully announce that due to severe laryngitis, the remainder of the U.S. 2017 tour will be cancelled
Sad news for the [a6,Scorpions], opening act [a1359,Megadeth] and their fans as the [a6,Scorpions] have been forced to cancel the rest of their Crazy World Tour throughout the USA due to lead vocalist Klaus Meine suffering from a severe case of laryngitis.
The group's press release on its website yesterday states:
The [a6,Scorpions] regretfully announce that due to severe laryngitis, the remainder of the U.S. 2017 tour will be cancelled. Klaus Meine has been advised by top throat specialist in Los Angeles to rest his voice. If he continues the tour, he could risk permanent vocal damage. The band stated, that they "truly hate to disappoint our fans, and hope to come back to America soon, but this time we have no choice but to cancel."
- [a6,SCORPIONS]
Sleaze Roxx attended the Scorpions' recent tour stop in Toronto, Ontario, Canada on September 22, 2017 and stated in its review: "Despite the deja vu feelings that I encountered throughout the [a6,Scorpions]' set, it was still fun hearing and seeing the band's stalwarts — singer Klaus Meine and guitarists Rudolf Schenker and Matthias Jabs — along with the seemingly replaceable band positions held by bassist Pawel Maciwoda and drummer / newcomer Mikkey Dee. Taking into account that both Schenker and Meine are each 69 years old, their performance was truly remarkable.
In fact, Schenker performed and moved like a young man in his '30s ran than a man about to enter his eighth decade next year. Schenker is simply in remarkable shape for his age. Meine seemed a lot more cautious with his movements but still moved around a lot more than many frontmen who are 20 years younger than him. Jabs was all smiles while playing which showed just how much he loves being up onstage. Maciwoda looked like he was enjoying himself onstage as well and knew his role to give center stage to the elder statesmen of the band. Mikkey Dee looked to fit right in with the band and seemed to have been with the group for many years rather than the short time that he's really been in the band."
by SleazeRoxx