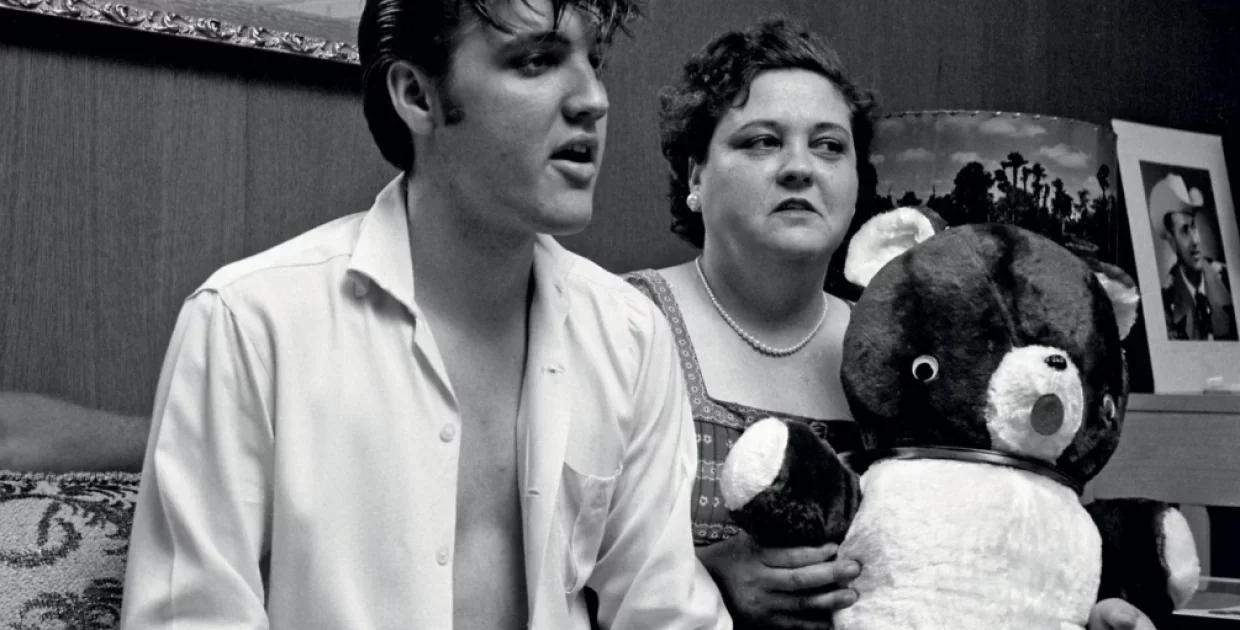 The best stories about famous rock musicians and their mothers
Even naughty rockers become the sweetest of creatures if they grew up under a mother's warm wing. Sometimes a mother's love was the driving force behind the formation of rock history. We recount the touching relationship between mothers and their famous children.
Elvis Presley: A song as a gift for mom
Everyone knows that if a young Elvis Presley hadn't stopped by the recording studio in Memphis in 1953 to make a gift for his mother — a record of the famous hits of the day — the world would never be as we know it. At any rate, it certainly wouldn't have been a better world. It only cost Elvis $8 to record two songs, "My Happiness" and "That's When Your Heartaches Begin." But then, after becoming the idol of millions and gaining a little weight, Presley made one of the most expensive presents to mothers of all time - a pink Cadillac Fleetwood 60, which, however, Elvis' mother never sat behind the wheel (because she simply could not drive it).
One can only guess how many young men went into rock 'n' roll to give their mothers a pink Cadillac. Although, of course, that was not always the main reason.
J.J. Cale: Mom is the engine of a career
A much quieter and nicer story happened to the most humble musician in the history of music, J.J. Cale. He released his first record without much hope of worldwide success, having previously suffered a fiasco as a producer and club performer. However, according to the legend, it was John Weldon Cale's mother (that was his passport name) who sent his CD to Eric Clapton, the man who in the late 60s had the status of "God". He liked the song "After Midnight" (and later "Cocaine", apparently, for personal reasons, too) so much that he recorded it on his album and thus made J.J. Cale famous. At any rate, it encouraged him to pursue music further, which in itself is very important.
By the way, J.J. also has a nice song about his mother — "Mama Don't". In it the lyrical hero's mother consistently tells how he is not allowed to play different musical instruments — guitar, drums, bass, but the hero does not obey his parent's instructions and after every phrase about the next ban this very instrument comes into play. In general, even the quietest musicians are some kind of rebels at heart!
John Lennon: Life Without a Mother
Unfortunately, not all musicians have been fortunate enough to experience years of love and support from their mothers. The early passing of a mother is one of the greatest dramas that can happen in childhood. John Lennon, by his own admission, lost his mother twice. The first time was when, starting a new life with another man, Julia gave young John to his aunt Mimi to raise, and the second time was when she was run over by a car driven by a drunken policeman. John poured out his feelings about the early loss of his mother (and father) in his poignant song "Mother", released in 1970. On the other hand, the elegiac "Julia", recorded two years earlier, is one of John's most sincere and heartfelt songs: "Half of what I say is meaningless/But I say it just to reach you, Julia."
Ozzy Osbourne and Frank Zappa: When Mother is Not Mother at All
When it comes to simple references to mothers, there are plenty of them in rock music. The Mamas & The Papas, for one (even if the name comes from a form of address popular in biker circles) ! "It's alright, Ma, I'm only bleeding," Bob Dylan wails on one of his most famous songs. "Mama, I'm coming home,"

Ozzy Osbourne booms out in a song of the same name, which he admits is more about his other mama, his wife Sharon, and is the song he hums to her when he returns from another tour (or a binge after a pseudo-divorce).
But one of the most sophisticated references to mothers in rock belongs, of course, to the great

Frank Zappa. His band Mothers of Invention, according to Zappa himself, didn't exactly appeal to the theme of true "motherhood" either. In the '60s, those who played very cool instruments were affectionately called "Motherfuckers," or Mothers for short. Without a second thought, the future king of the sound avant-garde decided to call his band that way, and now it is safe to say that during his long (and multi-album) creative path he proved the rightness of his choice of the name.
Neil Young: An Audible Letter to Mom
But even tough rockers are often in the most touching relationships with their moms. For example, the "godfather of grunge" Neil Young, who started his musical journey in the 60's with rock'n'roll and folk, who made a splash in the 90's with dirty garage albums and continues to rock in his 70's (God bless him!). As another sonic and mental experiment, Neil Young recorded "A Letter Home" in 2014, bringing together versions of great songs from the monsters of rock, folk and the fathers of the "flower children" era — Bruce Springsteen, Bob Dylan, Willie Nelson and others. Technically, the album was recorded on a vintage 1947 Voice-o-Graph machine in Jack White's studio. This machine allows vinyl records to be recorded directly in the booth, where the performer is loaded with his guitar. It is quite possible that Elvis used the same machine to write his first record for his mother.
The first track on the album, "A Letter Home," is a message to Young's mother, Edna "Rassie" Young, who died in 1990 and with whom Neil separated as a child in his parents' divorce. "Hi mom! Hey, it's great to be able to talk to you.Ah, I haven't been able to talk to you in really a long time… So I'd like to be able to send you this message and tell you how much I love you and also tell you that I think you should start talking to daddy again. Since you're both there together there's no reason not to talk."
With such a message to heaven, Neil Young embodied a fitting ending to the story of Elvis and his conquest of heaven. If we don't have time to say something important in our lifetime, we should try to do it in every way possible. And one of those ways is through art.
Musically, Neil Young's album is unlikely to make history (although the songs selected on it are great, except for the sound!), but Neil rarely ever aimed to hit the top of the charts, always following his heart. And such an original message to a long-gone mother will remain in music history forever. Unlike that little $8 record that Elvis gave to his mommy.