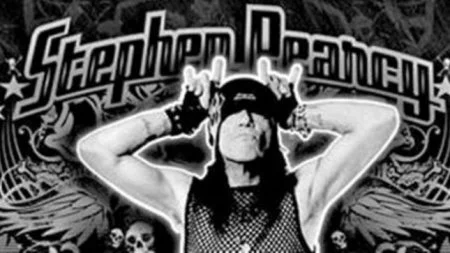 Ratt's Stephen Pearcy To Release Career Retrospective Compilation
Before & Laughter Prt III (1977-2015)
Still in the studio recording his fourth solo release 'Smash', Stephen Pearcy for sometime now has been going through years and years of music from his three decade career. Mickey Ratt, Arcade, Vicious Delite, Vertex, early Ratt songs before the original members and record contracts, solo works, other projects, never before heard versions of songs both live and in the studio will be found on the upcoming collection.
The new compilation 'Before & Laughter Prt III (1977-2015)' will be released in the next couple weeks on Top Fuel Records.
"I have literally hundreds of cassettes, CD and every format of recordings over the last 30 plus years and decided to really get into it and find the charms," said Pearcy. "I was surprised to find some great music with my bands and projects that should be heard."
Pearcy will be back at MT Studios this week to finish up the third single from 'Smash'. So far two singles from the upcoming solo album have been released, "Just One More Time" and "I Can't Take It".
In April of last year Pearcy said he was leaving the multi-platinum band Ratt "due to the constant turmoil, unresolved business, personal attacks/threats in the public forum and most of all, the disrespect to the fans." However he didn't rule out finishing the follow-up to 2010's 'Infestation', which Sleaze Roxx called "the rebirth of the classic Ratt sound". "I'm not saying there won't be another Ratt record, it just won't be under a circumstance of a band going into the studio," Pearcy told One On One With Mitch Lafon. "I just won't be playing in that band anymore and pretty much put that to rest."
" frameborder="0" allowfullscreen>
Courtesy of www.sleazeroxx.com