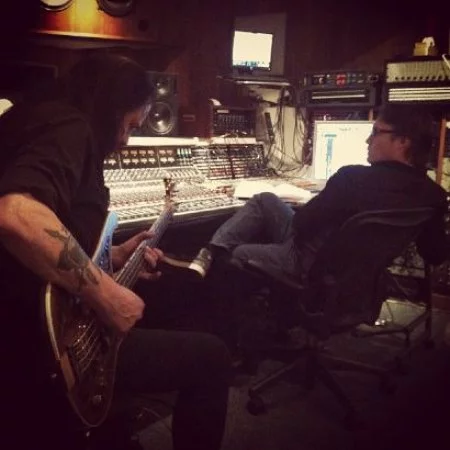 MOTÖRHEAD Recording New Album
MOTÖRHEAD has entered the studio with longtime producer Cameron Webb
MOTÖRHEAD has entered the studio with longtime producer Cameron Webb to begin recording the follow-up to 2010's "The Wörld Is Yours" for a tentative late summer release. Songtitles set to appear on the CD include "Outsider" and "Silence When You Speak to Me".
A photo from the studio can be seen below.
MOTÖRHEAD released "The Wörld Is Ours – Vol 2: Anyplace Crazy As Anywhere Else" in Germany on September 21, three days later in the rest of Europe and October 9 in North America via UDR/EMI. The follow-up to 2011's "The Wörld Is Ours – Vol 1: Everywhere Further Than Everyplace Else" features the band's 2011 Wacken Open Air headline appearance as well as highlights from Sonisphere (United Kingdom) and Rock In Rio (Brazil) shows.
MOTÖRHEAD's latest album, "The Wörld Is Yours", sold 7,000 copies in the United States in its first week of release to land at position No. 94 on The Billboard 200 chart. The band's previous effort, "Motörizer", premiered with 6,400 units back in 2008 to debut at No. 82, while 2006's "Kiss Of Death" registered a first-week tally of 3,500.
Read more at http://www.blabbermouth.net/news/mot-rhead-recording-new-album/#2sKtVqS1KMRIDEhK.99